A Look at Our Diversity, Equity & Inclusion
Cultivating an inclusive environment where everyone feels safe and valued
We know that businesses are stronger and more successful when they are diverse and represent the communities they serve. But working towards true equity, justice and inclusivity, in and beyond LS&Co., is both a moral and a business imperative. We're at our best when everyone can bring their true, authentic self to work every day, which is why we are committed to building an organization that better reflects the communities we work in and serve, and where everyone feels safe and valued.
Transparent Disclosures
This work begins with a transparent assessment of where we stand. In June 2020, we released our representation data for the first time and committed to annual updates. Although LS&Co. has long championed diversity, equity and inclusion, sharing our representation data creates a clearer way for us to measure progress. We will continue to hold ourselves accountable in this ongoing process. Our assessment highlighted the rich diversity among LS&Co. retail staff. We saw a less positive picture at the leadership levels, where Black, Indigenous and People of Color (BIPOC) representation was very limited, and female employees were likewise underrepresented at higher levels.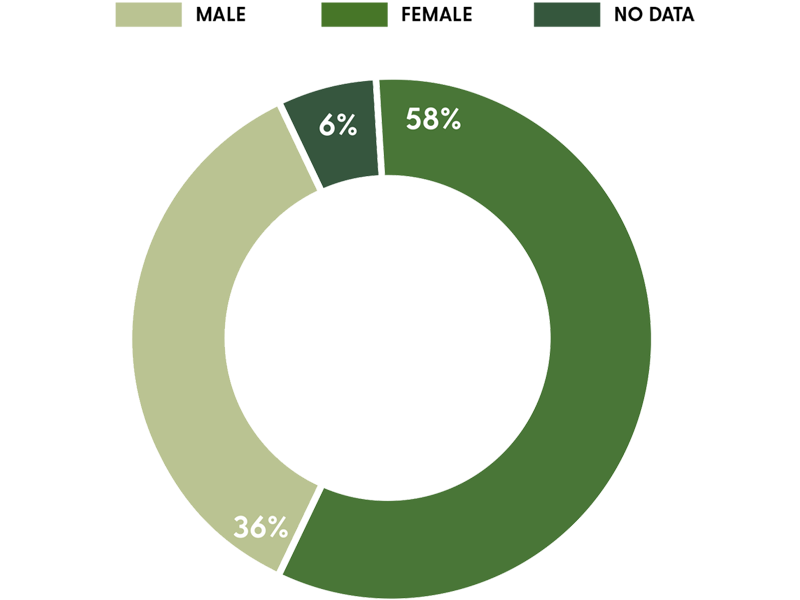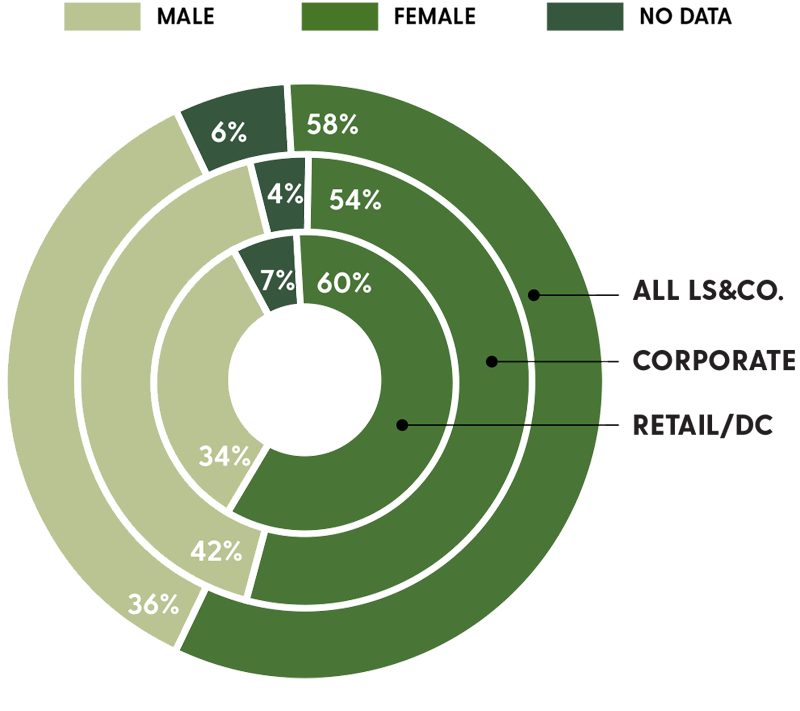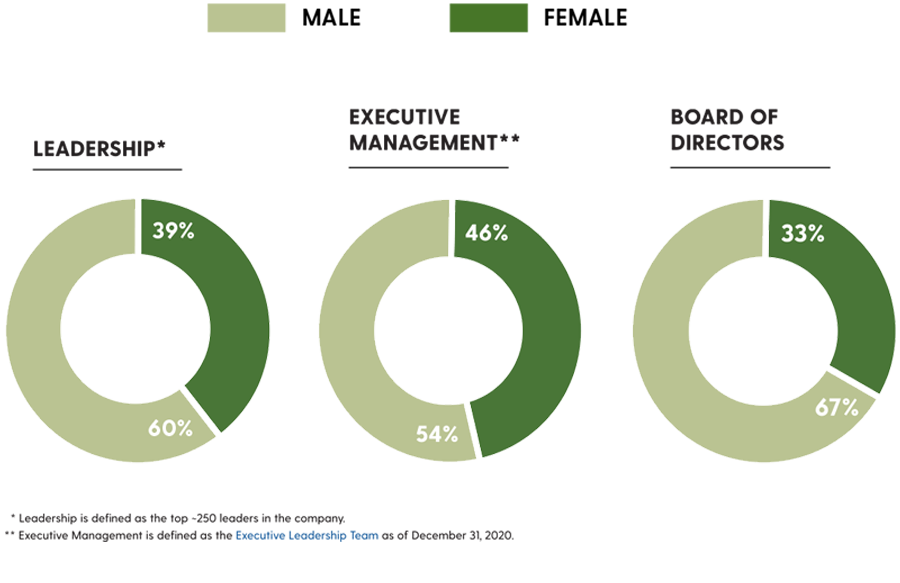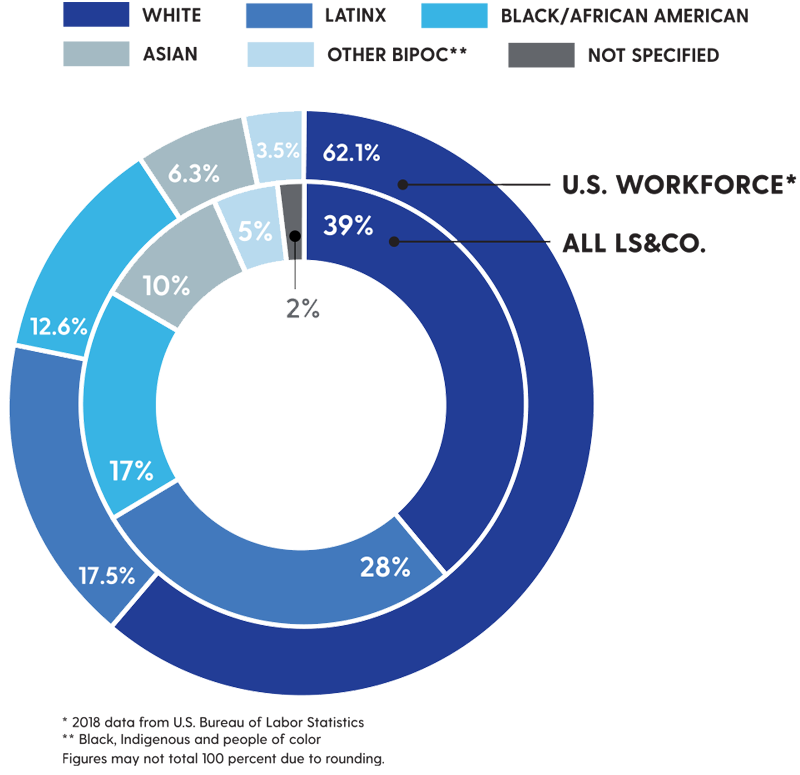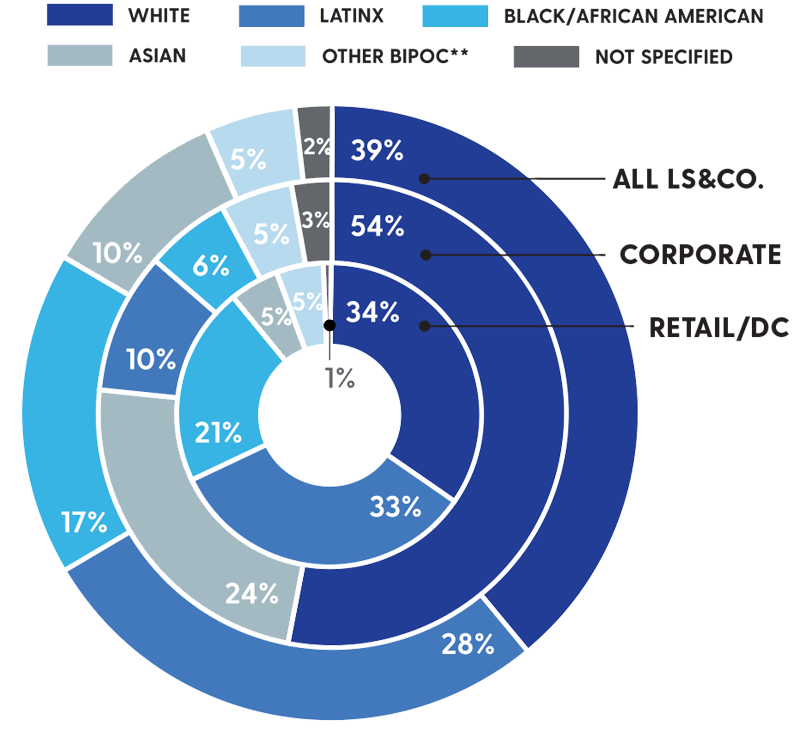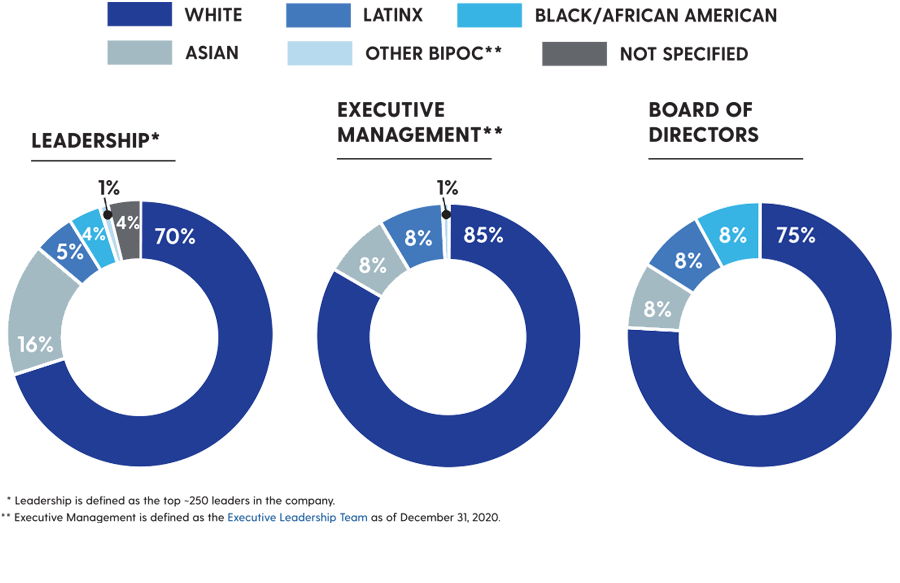 Foundational Changes
We took several concrete steps to attract, retain and grow diverse talent, starting with the hiring of Elizabeth A. Morrison to the newly created position of Chief Diversity, Equity & Inclusion Officer in 2020. As part of our new DE&I strategy, she has been building her team, including bringing on a head of Diversity & University Recruitment.
We were pleased to welcome Elliott Rodgers, Chief Information Officer of Ulta Beauty, to the LS&Co. Board of Directors as well. His expertise in ecommerce, digital transformations and operational excellence in an omnichannel supply chain is especially valuable as we continue to look for innovative ways to get our products to our consumers when, where and how they want them.
We are also leveraging the latest tools and creative partnerships to ensure we recruit from the most representative talent pools possible, including historically Black colleges and universities. To further diversify our talent pool, we committed to ensuring that half of the interviewees for open positions are racially diverse. We are also expanding our leadership and development opportunities for racially diverse employees. In the coming years, we will launch a career path program to help retail and distribution center employees advance to corporate roles.
In 2020 and into 2021, we made real near-term progress, but we also know that we're not there yet, and it will take time. We are committed to the long-term, sustainable investments we have made to hire, support, promote and elevate more people of color at LS&Co. across levels and functions.
Pay Equity
We conduct independent pay equity audits every other year, with the goal of maintaining fair and equitable pay. In 2018 and 2020, an outside firm conducted an audit across our U.S. non-union population, which includes corporate and retail employees, as well as distribution center management. The study considered job level, performance, experience and factors such as promotion recency to examine our relative pay practices across gender and ethnicity in each population. Both the 2018 and 2020 studies found no systemic pay differences across gender and ethnicity. We still have more to do globally to drive equity across all pay and career advancement practices, including increased transparency and objectivity around compensation rewards and development opportunities. These goals will be central to our ongoing work.
Employee Resource Groups
Our 12 employee resource groups (ERGs) are designed to celebrate our differences, create safe spaces and build our collective cultural intelligence. In 2020, we launched two new groups: Sawubona, which focuses on Black / African employees in Europe, and Team A.B.L.E (Adapting Beyond Limits & Expectations), which aims to create a community where families, allies and people with special needs feel safe and included. All ERGs went virtual in 2020 and attracted more than 2,000 employees globally through a variety of educational and inspirational events.
The ERGs are critical to driving honest, provocative conversations, while helping employees feel connected, engaged and encouraged to bring their whole selves to work. Some of our ERGs have also stepped up to tackle broad societal challenges. LS&Co.'s Black ERG, Project Onyx — which is committed to creating an inclusive work environment and raising awareness of the Black experience — played a leading role in formally recognizing and celebrating Black History Month at LS&Co., shaping the company's internal and external response to the killing of George Floyd, navigating the renewed focus on Black Lives Matter during the protests that followed, and partnering with other ERGs to plan cross-sectional events. They also have offered invaluable counsel to our executive leadership team to further support DE&I at LS&Co. Other ERGs, such as Rivet (our women's ERG), InsideOut (our LGBTQ+ ERG) and the Asian ERG play similar roles on issues germane to their focus areas.
Inclusion and Allyship
Creating an inclusive workforce means connecting our employees to the issues that matter — and to each other. Our diversity and allyship events feature leading speakers and learning opportunities that strengthen our understanding of the world around us. A variety of events and resources keep employees informed about our collective efforts to create an inclusive culture, such as:
Our first global virtual women's summit, RISE: Seen & Heard, attended virtually by more than 1,000 employees, including women and men, around the world in 2020.
A 2020 Speaker Series focused on racial justice, DE&I and equality, attended virtually by almost 2,000 employees globally.
Internal articles covering allyship, heritage, social and racial justice, intersectionality and related topics.
We also make sure to bring our values to life in our retail locations as a founding member of the Open to All campaign, a commitment to welcoming everyone into our stores regardless of race, ethnicity, national origin, sex, sexual orientation, gender identity and expression, immigration status, religion or disability.
Adding Our Voices
Speaking Up. As we've done for decades, we've spoken up on issues that directly affect our business and our people, many of which tie into our broader DE&I goals. This includes joining the Facebook boycott calling out the proliferation of misinformation; drawing a connection between structural racism, gun violence and voter disenfranchisement; and championing the importance of a stronger, more inclusive democracy. Through the Use Your Voice campaign on Instagram, the Levi's® brand hosted conversations with Black and LGBTQ+ leaders, voting rights activists, educators and organizers, reaching more than 15 million people around the world.
Voting Initiatives. To root out the racism embedded in institutional structures and systems, we need a functioning, representative democracy. To that end, we put our weight behind a number of voting initiatives in the U.S. during 2020. Together, LS&Co. and the Levi Strauss Foundation supported more than 20 voting rights and engagement organizations working to remove barriers and improve access to the polls, mobilize voters in marginalized communities, and engage young voters in the democratic process.
Giving. In 2020, as every year, employees showed their support to organizations working toward equity and social justice, with nonprofit giving — including our company match — growing 471% over the previous year in civil rights, social action and advocacy. Unfortunately, organizations led by people of color — especially women leaders of color — are largely underfunded. The Levi Strauss Foundation currently directs an average 65% of philanthropic funds annually toward organizations led by people of color and is committed to increasing this level of financial support.
What's Next – Diversity, Equity & Inclusion
Over the last year we have made real near-term progress, but we also know there is more to be done. Our DE&I work is guided by a multi-year, multi-faceted global strategy centered around valuing diverse talent, seeking fairness, and building culture, brand and influence. This strategy captures our renewed commitment to creating a company that mirrors our consumers and communities, while continuing our longstanding external work to advocate for a more equitable and just society.
In 2021, building on our commitment to improve diverse representation and create an equitable playing field in our company and industry, LS&Co. joined the newly formed Diversity in Design Collaborative as a founding member. We will work with other leading companies to foster systemic change by increasing design career opportunities for Black youth, building an educational pipeline leading to full-time employment. LS&Co. also joined the Asian American Foundation's AAPI Giving Challenge, making a five-year commitment to support Asian American and Pacific Islander (AAPI) communities in the pursuit of belonging and prosperity, free from discrimination, slander and violence.
Building a culture of belonging takes everyone's active participation. That's why we launched and are asking every employee to take #thepledge, which is our commitment to action for DE&I. By participating in our curated and customized diversity training, engaging authentically in the learning experience, and finding ways to bring key takeaways to life, employees are doing their part to help us deliver on our commitments to increase the diversity of our workforce and enhance our culture of inclusion. This is how we create an environment where our workforce feels empowered to be their authentic selves. Investing in our employees' DE&I capabilities is key to achieving our goals. Going forward, we will be sharing annual DE&I impact reports that provide even more detail.